2011-2012 WVU Basketball Season Preview


There's a new football coach in Morgantown since the last
WVU Basketball Season Preview article
, but losses to Syracuse and Louisville make it necessary to run the
same intro
to the 2011-2012 WVU Basketball Season Preview that has appeared for four straight years now:
Quote:
This year, my eager anticipation for WVU basketball is at an all-time high, almost certainly brought about by the repugnant stench coming from the other end of Patteson Drive.

In fact, my most common response in the recent weeks with regard to the question, "What's going on with the damn football team" has been very simple: "I don't know what you're talking about. It's basketball season."

Yup, it's basketball season. Thank God.
This year's preview is particularly important since the Mountaineers have more freshmen on their roster than you'd find at the end of a semester's worth of fraternity paddles. Additionally, it appears as if this might be the last year of Big East play for the Mountaineers, with the University's lawsuit to leave the conference early to join the Big 12 next season. (At least they
certainly seem to think it's happening next year
...)
I can't imagine seeing this leaked picture of WVU's practice facility floor made a whole lot of folks in the Big East happy...
While it is admittedly a bit of a cop-out to release a "preview" article after four games have already taken place, my defense is twofold:
1) I am lazy.
2) How could you possibly know how so many freshmen would play without seeing them a few times?
The important thing is that the finest WVU Basketball Prediction Article In the Land has returned once again to break down both the players on the team and the predictions of success (or lack thereof) for the Mountaineers this season.
So let's get to it.
(All statistics provided by statsheet.com unless otherwise noted.)
Overview
Last season was a bit of a roller coaster ride for Mountaineer fans. The highs were high (wins over ranked teams like Purdue, Georgetown, Louisville, and eventual NCAA Champion Connecticut- in March no less) and the lows were low (2 losses to Marquette, including the opening game of the Big East Tournament, losses to Miami and... ugh... Marshall).
The season ended about how it should have, with a win in the first round of the NCAA Tournament over Clemson coming on the back of sheer willpower, and a loss to eventual Final 4 team Kentucky after WVU led by 8 points at the half.
The Mountaineers weren't very consistent last year, as evidenced by the fact that they didn't have a winning streak longer than 4 games all season.
They also couldn't shoot the ball worth a damn, as evidenced by their 69.8 points per game and 42.9 field goal percentage, good for 141st and 207th in the nation, respectively.
Key contributors gone from that team are Joe Mazzulla (a 12th year senior who couldn't shoot but played solid defense), Cam Thoroughman (hustle player with little to no actual basketball ability), Casey Mitchell (a streak shooter if ever there was one), and John Flowers (highly-motivated energy player with occasional shooting ability). WVU also loses Dalton Pepper (transferred), Jonny West, and Dan Jennings (who left midway through last season after basically quitting on the team.)
Notice that I didn't name a single person that ever made an All-Big East team in that list, and you'll see that while WVU is bringing freshmen galore into the fold this year, they'll essentially be replacing role players.
So let's get to the guys still on the team this year...
Starters
-
Kevin Jones, F (senior)
It seems like just yesterday that this sweet-shooting 6'8'' forward came into our lives and has been a consistent presence in the paint ever since.
He cleans the boards, he's a good defender, and he's got that ability to step away from the basket that every fan dreams of in a power forward.
It doesn't hurt that he's a great player, but KJ is one of my favorite Mountaineer basketball players of all-time mainly because his attitude and work ethic make it nearly impossible to dislike the kid. You never see him dogging a teammate or a referee, feuding with his coach, fighting with an opponent, or any other negative trait many current players have.
Jones was listed on the preseason Wooden Award list (top 50 college basketball players) and the All-Big East First Team. (He's the only Mountaineer on either the First, Second, or Third All-Big East teams, for what it's worth.) He was also named as a candidate for the Lowe's Senior CLASS Award, given annually to a student athlete for contributions in community, classroom, character, and competition. (Mountaineer fans might recall that Da'Sean Butler won the award in 2010.)
KJ briefly considered entering the NBA draft
last Spring, but made a savvy decision by deciding to return to school rather than joining a league that is apparently not going to have a season this year.
As for his on-the-court accomplishments, KJ actually took a small step backwards last year, perhaps as a result of being forced into a role he's never been quite suited for- that of the go-to guy.
KJ mostly suffered last season from a diminished ability to hit the 3-ball that made him one of the Mountaineers' most effective weapons in their Final Four run in 2010, when he hit over 40% from behind the line. Last year saw KJ hitting only 30%, a marked drop. His free throw percentage also dropped from 66% to 60% (I've never understood why a guy that can shoot as well as KJ from the outside doesn't have a higher FT%).
Never the most athletic guy on the floor (as evidenced by his cringe-inducing missed dunk last week), KJ makes his living by out-hustling and out-positioning opposing teams on the block while collecting rebound after rebound. He's also developed a nice post-up game which allows the Mountaineers to have two low-post threats on the floor when he's partnered with Kilicli on the other side of the floor.
Unfortunately with that new-found ability to post-up comes new-found double teams on the block, and at this point, the Mountaineers haven't demonstrated that they have ANY idea of what to do when that happens, with KJ and The Turk turning the ball over with regularity in that situation. Huggybear will surely have a solution to this problem shortly.
All said, Kevin Jones is a rock in the middle of the Mountaineer frontcourt that has consistently performed to the level of an all-time Mountaineer, and his ability combined with his attitude make him an absolute joy to watch on the basketball court. In short, Kevin Jones makes me proud to be a Mountaineer fan.
Seriously, do a Google images search and try to find a picture where Kevin Jones isn't smiling.
-
Darryl "Truck" Bryant, G (senior)
Truck is what he is. He's progressed very little from his freshman season to this point, so you know what you're getting as the season plays itself out. Somewhere between 11-15 points per game, 34% from the floor, and almost as many turnovers as assists.
I know it seems harsh to say, but just look at this chart from statsheet.com:
First and foremost, ignore the 2011-2012 portion of this chart (the far right points) as 3 games is hardly enough of a sample size to either criticize or praise any player.
Notice that as Truck's minutes increased, so did his points, which is to be expected. But his shooting percentage has gone down every single season he's played.
The most troubling statistic with Truck has always been his assist-to-turnover ratio, typically the go-to stat when it comes to point guards.
- Freshman season- 1.3 assists for every turnover
- Sophomore season- 1.5 assists for every turnover
- Junior season- 1.4 assists for every turnover.
Put in perspective, a good point guard in college basketball is usually around at least 3 or 4 assists per turnover. Truck was 37th in the Big East alone in this category last year.
Again, 3 games is too small of a sample size to judge any player, but so far this season it doesn't look like Truck's learned ANYTHING since his freshman season. He's still a walking turnover machine, still jumps into the tallest player on the floor looking for foul calls (sometimes he gets them, sometimes he doesn't), and still commits dumb fouls with regularity.
One positive side of Truck is that he seems to be one of the few players on the Mountaineers this season that is capable of even hitting the rim from 3-point territory, so his outside shooting could provide Kevin Jones and Deniz Kilicli some room to operate inside.
Mountaineer fans will just have to grit their teeth this year and hope that Good Truck comes out more often than Bad Truck, or a Bad Season could be a serious possibility.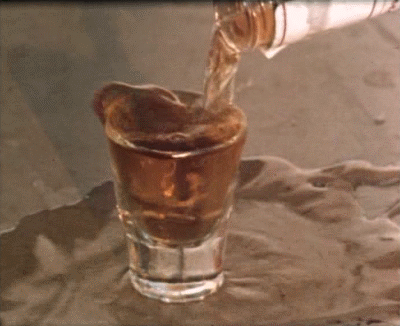 It's not an unusual sight for me to turn to the bottle after Truck leads a fast break.
-
Deniz "The Turk" Kilicli, C/F (junior)
A crowd favorite (
for obvious reasons
), The Turk gives the Mountaineers one of the most dangerous low-post scoring threats in the Big East (and maybe in the nation). Noticeably hairier and more athletic this year, Kilicli has a knack for scoring in the post that you just don't see with many collegiate players.
Though right-handed, The Turk shoots almost exclusively with his left hand from the post, and strangely, every defender he's ever faced seems surprised by this. He has a plethora of moves down there which leave many post defenders confused and prone to foul, so it would be helpful if he started hitting more than 57% of his free throws.
Kilicli has frustrated many Mountaineer fans at this point in his career for his propensity to commit silly fouls that put him in foul trouble and limit his minutes on the floor. He also grabs fewer rebounds than someone his size playing almost 30 minutes a game should gather. (Only around 4 per game.)
He seems to have improved on both levels so far this season, but again, a 3-game sample is hardly enough to draw any major conclusions.
If the Mountaineers are to return to the NCAA Tournament this year, they'll need both Kilicli and KJ scoring consistently from the post, as the perimeter options are untested and unknown for WVU this year. Like KJ, Kilicli also needs to work on what to do when the double-team comes, as he's prone to turning the ball over in that situation.
And if he's scoring as consistently from the post as he's capable of, those double-teams should be coming early and often.
-
Jabarie Hinds, PG (freshman)
The most highly-touted freshman in Morgantown since Devin Ebanks, Jabarie Hinds is an exciting point guard that gives Mountaineer fans hope for strong backcourt play for years to come.
Hinds, from Mt. Vernon High School in NY like Kevin Jones, is a lefty with amazing speed and athleticism that has already been on display through his first 3 games as a Mountaineer. He's already better on a fast break than Truck Bryant is, (both in terms of finishing and dishing the ball off) and perhaps understandably, has pushed Truck into more of a shooting guard role this season (which perhaps suits Truck better anyway).
Hinds has the potential to be an elite perimeter defender. His athleticism allows him to pester opposing ballhandlers on defense in such a manner that he reminds me of Joe Mazzulla in terms of tenacity and speed, only with more lateral quickness. (This is intended as a major compliment.) Through 3 games, he's averaging 3 steals a game and looks like he's going to be annoying the living hell out of opposing guards for a long, long time.
As with any freshman point guard, Hinds is going to struggle with turnovers, both in regular sets and when facing full-court pressure from other teams. His shot from the outside could be inconsistent, but he has already demonstrated an ability to slash and score that hasn't been seen from the Mountaineer backcourt in quite some time.
While it's early and I don't want to get my hopes up, it also appears that the Mountaineers have successfully
replaced Cam Thoroughman
with Hinds as Mountaineer Player Whose Mouth Is Hilariously Agape In Every Picture. Behold:
Regardless of Hinds' propensity for open-mouthed photographs, as someone who has been frustrated with point guard play since the departure of Darris Nichols, I'm extremely excited to watch this kid lead the Mountaineers' backcourt for the next few years.
-
Keaton Miles, F (freshman)
Keaton Miles is another highly-touted freshman starting for the Mountaineers this year that oozes potential. Though he's had a hard time putting it on the floor through his first three games as a Mountaineer (shooting a ghastly 1-8 with a few airballed three-pointers), Miles is a 6'6'', 4-star forward from Lincoln High School (Dallas, TX) that demonstrated versatility and extreme athleticism in high school.
Understandably, his first few games at the D-1 level haven't exactly demonstrated his ability, but according to all accounts from his high school days, Miles provides an array of scoring options from 15-feet and in, allowing his athleticism to get to the rim for scoring opportunities. At this point, he looks like Coach Huggins might be blowing his mind with some new offensive sets and he doesn't seem comfortable quite yet.
Miles does already demonstrate an ability to defend both the post and perimeter, using his size and athleticism for solid positioning. He also should be an asset on the boards that KJ and The Turk aren't already scooping up themselves.
In a refrain that will be fairly common both this season and in this preview column, Miles has plenty of potential, but the Mountaineers' success on the floor this season will require him to meet at least SOME of that potential sooner rather than later.
Role Players
-
Gary Browne, PG (freshman)
Oddly, the two most capable freshmen off the bench for the Mountaineers are both named Brown(e), leading to approximately 4,000 times this season my wife will probably say, "Now which Brown is that again?"
This Brown(e) is a very capable point guard from Puerto Rico who actually has a considerable amount of experience in high-level competition for someone his age. As
this ESPN Insider article
notes, he was named Puerto Rico's player of the year in his junior season before heading to the US and Arlington Country Day School in Florida for his senior season. Last year, he was the leading scorer for the U-18 Puerto Rican National Team as a 2-guard, demonstrating ability as a scorer from long-range, though point guard is his natural position.
As
this article
from WVIllustrated.com notes, "Through four games, he's the team's third-leading rebounder behind Kevin Jones and Deniz Kilicli. As a backup point guard." (Though that almost speaks more to the lack of rebounding after KJ and The Turk than Browne's specific skill set.)
Browne has been the first player off the bench for the Mountaineers so far this season, demonstrating unusual poise for an 18-year old point guard. He's also gotten the attention of his teammates, as noted in
this article from wvmetronews.com
after Browne's solid performance in Tuesday's Moorehead State game:
"Gary Browne has improved a lot. He's had a tough time. Coach has really been on him the last couple of games, but he's our point guard," said forward Kevin Jones. "He has to go out there and lead us and he's stepped up really well for us tonight and we are going to need for him to keep improving in order for him to lead us."
If Truck Bryant is struggling with either poor play or foul trouble (which you can probably tell from the above preview that I expect to happen a decent amount), expect to see plenty of Gary Browne.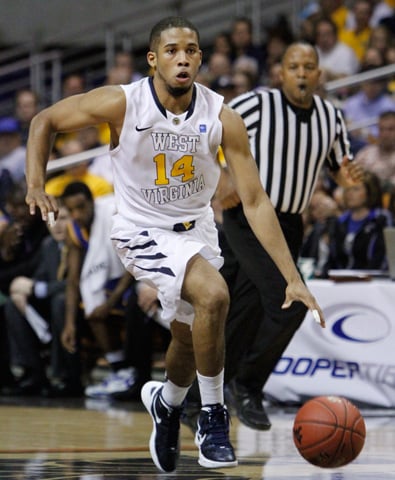 Like Jabarie Hinds, Gary Browne looks to give the Mountaineers a solid option in the backcourt for years to come.
Photo by wvillustrated.com
-
Pat Forsythe, C (freshman)
One of the first legitimate centers in Bob Huggins' tenure at West Virginia is 6'10'' freshman Pat Forsythe out of Brunswick, OH. One of the youngest members of the Mountaineer basketball team (he just turned 18 in July) Forsythe was not highly recruited until before a workout tape surfaced before his senior year that had recruiters floored, then the offers started rolling in.
Forsythe might not be done growing, as he sprouted 2 inches going into his senior year which saw him average average 22.5 points, 12.6 rebounds, 6.1 blocks per game while shooting 66% from the floor.
It seems apparent through the Mountaineers first four games that Forsythe is about as raw as an uncooked steak (in his first game he finished with 0 points, 0 rebounds, 0 blocks, 0 assists, and 5 fouls in 14 minutes of game time), but he has already shown glimpses of his potential to hit the boards and alter some shots.
And believe me, with absolutely ZERO shotblocking coming from anyone I've named in this preview so far, any help Forsythe can provide in that respect would be welcomed.
-
Aaron Brown, F/G (freshman)
The other Brown is a sweet-shooting lefty that has already demonstrated his ability from the outside in the first four games this season, hitting 4 of 9 from 3-point range. (His barrage of outside shots in the first game against Oral Roberts caused my first, "Who the hell is THIS kid?" of the year.)
Brown is a 6'5'' forward/shooting guard out of Penn Wood High School in Philadelphia, PA, where he averaged 19 points and just over 7 rebounds in his senior year.
Brown should give the Mountaineers an outside threat this season to compliment the inside game of KJ and The Turk, and should see enough minutes to contribute.
If nothing else, it should be entertaining to watch him dealing with Coach Huggins, as he reported in
this interview
that he wanted to come to WVU because "[Coach Huggins] is
just real laid back and I like that about a coach."
"LAID BACK???"
-
Kevin Noreen, F (redshirt freshman)
Noreen is the only guy coming off of the bench that Mountaineer fans had ever seen before this season, playing in 6 games last season before undergoing surgery on his right knee and qualifying for a medical redshirt. The most remarkable thing about his contributions last year were that there were no other freshmen on the Mountaineer roster available to contribute even that much.
In limited action, the 6'10'' forward seemed adept at hitting the glass on both the offensive and defensive ends of the floor, with a nice touch around the rim. It seemed that he might have a chance to mesh well with the Mountaineers last season before his injury, even though he only appeared in spot duty. So far this season it seems like Forsythe is Coach Huggins' first option off the bench, with Noreen available if necessary.
-
Paul Williamson, G (freshman)
A walk-on freshman from Logan, West Virginia, no one really expected much from Paul Williamson this year, perhaps even Paul Williamson, who admitted that he was surprised to hear Coach Huggins call his name to come into the third game of the season against Alcorn State.
"I was kind of just stunned,'' Williamson said in
this very good Charleston Gazette article
. "I can't even explain it. I was just kind of stunned that he called my name so early.
"At first it just went through my mind like, 'Did he just say my name?' And then he said it again and I thought, 'Oh my gosh.' I took my shirt off and I went up and I was trying to calm myself.''
Williamson calmed himself to the extent that he drained the first shot of his NCAA career, a 3-pointer, then another one shortly thereafter. Just for good measure, he hit another pair in the next game against Morehead State, leaving him 4-6 in 2 games this season.
While his defense leaves something to be desired, Williamson can see himself in the role vacated by Jonny West's graduation- that of a deadeye shooter in spot situations. (And as noted in Aaron Brown's preview section, the Mountaineers can use all the outside shooting they can get.)
Williamson had a chance to play in other lower-level D-1 schools on scholarship, but instead chose to walk on to his home state team. For what it's worth, he's earned high praise from his home state fans and his home state coach:
"Paul comes in and listens and tries to do what he is supposed to do," says Bob Huggins in
this article from wvillustrated.com
. "Paul can make shots and he is going to play hard and you know what he is going to give you."
Two words- Fan. Favorite.
-
Dominique Rutledge, F (Junior)
Dominique Rutledge is a highly-touted junior college transfer standing 6'8'', 240. Unfortunately, he's already found his way into Coach Huggins doghouse in his short time in Morgantown so far, earning a suspension for an undisclosed violation of team rules.
Rutledge's path to the Mountaineers is a somewhat confusing one. Originally ruled academically ineligible after committing to St. Joe's out of high school in 2007-2008, he spent 2008-09 at Hutchinson (Kansas) Community College and 2009-10 at Miami Dade before going to Western Texas College, where he didn't even play in games, but just practiced with the team.
According to quotes from Western Texas College coach Jason Sautter from
this article
, "He played at Miami Dade and his grades weren't where they needed to be and so he contacted us and said that he heard I'm not the easiest guy in the world to be around but I stay on top of guys and make sure they do what they're supposed to do."
That same article gives a handy scouting report of Rutledge from none other than Coach Sautter himself:
"He can handle the ball. He can play the four or the five. He can guard anywhere from a three to a five. If he has to guard a two, he can.
"He's very consistent from 15 feet in. If he has to shoot a 3 he can hit that as well. He's not afraid to bang, not afraid to run. He can pass it. He can handle it. He can play a little inside-out. He has good hands and rebounds very well."
So far in the season, it doesn't look like Rutledge has earned the trust of Coach Huggins, playing only 6 total minutes in all four games. Mountaineer fans hope that whatever it was that caused him to get suspended has been addressed, as WVU players butting heads with Coach Huggins don't typically stay around very long. Just ask Noah Cottrill and Dan Jennings.
-
Tommie McCune, F (Freshman)
McCune is another long (6'8''), skinny (205 pounds) freshman with potential but not much in the way of ability to contribute for the Mountaineers right away. He's also already seen some trouble in Morgantown after being
charged with shoplifting
in August, but has apparently satisfied the Mountaineer coaching staff that he's responsible enough to earn a few minutes in the games so far this season.
McCune, a freshman out of Saginaw, Michigan, has a nice touch around the basket and an unusual ability to handle the basketball for a forward his size. If he can stay out of trouble and hit the famous Huggins Weight Gain Program (which is certainly more effective than the Jude Weight Gain Program from college, which consisted of potato skins and cases of Natural Light), then he should be ok.
Season Predictions
I feel like if you've made it this far in the WVU Basketball Season Preview, you're probably aware that we've gotten pretty effing good at this prediction business on the Couch. And if nothing else, we're pretty effing good at telling you how effing good we are, so I'll fill in the uninitiated:
-
2005-2006, correctly predicted
not only that WVU would finish 3rd in the Big East, but also nailed the EXACT SEED that the Mountaineers would have in the Tournament (6).
-
2006-2007, correctly predicted
an 8th place-finish in the Big East and an NIT run (WVU finished in a 3-way tie for 7th in the Big East and won the NIT)
-
2007-2008, correctly predicted
WVU's exact number of regular season wins (22), their exact finishing place in the Big East (they finished tied with Marquette for 5th at 11-7), and their inclusion in the NCAA Tournament. (To be fair, I missed their seed by 3.)
-
2008-2009
- 1 game off the final record, 2 spots off the Big East rank, and 1 seed off the NCAA Tournament appearance.
- The magical
2009-2010 season
, unquestionably my best work. 1 game off the final record, nailed the Big East 2nd place finish, called the Big East Tournament Championship (I'm not making this up, it's on record), and the NCAA Tournament seed while saying it would be a "season for the ages."
- As compared to that insanity,
last year
was a step back. I missed the final record by a single game (again), correctly predicted WVU would finish 6th in the Big East (they tied with Cincinnati), but missed on the NCAA Tournament seed, predicting an 8-seed when they got a 5. (In my defense, it was an unusually bad season for college basketball. Normally a 20-10 team wouldn't sniff a 5-seed.)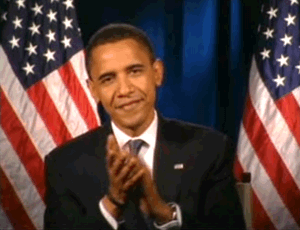 Thank you, Mr. President. At least someone appreciates greatness when they see it.
(PS- At this point I am also compelled to mention that Couch Contributor PB has correctly predicted WVU's exact record two seasons in a row. See the previous links to verify. His prize for this precision is this shout-out. We are cheap bastards here at the Couch.)
So let's get to this season's predictions. Granted, we have a little bit of an unfair advantage after seeing 4 games already, but I seriously doubt anyone's really learned anything in these first four games that they didn't already know about the team. "What, the freshmen are going to be hit and miss? THAT CHANGES EVERYTHING!!"
Dan
So long Big East Basketball, we hardly knew ye. Off we go to establish rivalries with...Kansas State? Texas? The Permian Panthers?
Regardless, like our gridiron warriors, this doesn't appear to be a successful season for Kevin Jones and others as they attempt to perform a victory lap around the conference schools. But I didn't have to tell you that after the Mountaineers already dropped an exhibition game to
Western Eastern Southern
Northern Kentucky
That said, I see Huggins' squad going 17-16 while channeling the Ghost of Gale Catlett and losing our opening round Big East Tournament game. Perhaps we can win another NIT championship, assuming the tourney still exists and that Darris Nichols has an additional year of eligibility.
Norm
This year's Mountaineer basketball team will drive us (and Huggs) absolutely crazy. The team is young and exceptionally talented, however, with that youth will come mistakes.
This team, at times, will look as though the National Championship is just a formality and the turn right around and look as though they have never even seen a basketball before.
That having been established, Bob Huggins is an excellent teacher of the game of basketball, so this team will most definitely improve dramatically as the season progresses, let's just hope that until that happens we haven't eliminated ourselves from post-season contention.
PB
This is going to be a tough year for the Mountaineers. With only 3 players on the roster with any significant playing time, Huggin's squad is, in a word, young. Real young. Literally Justin Beiber young.
I have no doubt they will get better as the season progresses, but the schedule gets harder as they get into the later stages as well. Big East play is going to be a season-long trial by fire for the many many freshman on this team.
Playing for Coach Huggins is also a trial by fire in and of itself. Huggs may need to buy a few additional treadmills. Ultimately, these kids will come together and be a really good team. This year, however, I will be happy just getting an NCAA bid.
Record prediction- 19-12
The Couchers are predicting a bit of a fall from grace for the Mountaineers this season.
Jude
Ok, I know I'm the only one.
From just about every season prediction article I've found concerning the Mountaineers comes predictions of doom and gloom and NIT appearances.
I just don't see it. Not yet, anyway.
I realize there are freshmen galore on the floor for the Mountaineers, and there will be some bumps in the road for those freshmen. But compare this team to last season's, which had so many returning players with experience. Isn't it reasonable to expect that a top 10 recruiting class could replace guys like Mazzulla, Thoroughman, and Flowers? Doesn't anyone remember that there were sizable stretches during last season when the Mountaineers demonstrated almost no SKILL and all HEART? When they couldn't throw the basketball in the ocean?
Sure, there will be games when opposing teams press the Mountaineers and too many turnovers happen and they can't recover. There will be times when your head will explode because something as simple as an inbounds play goes horribly awry.
But there's also aspects that these freshmen bring to the court that last year's team simply couldn't, from outside shooting to fast breaks to perimeter defense.
It may be rocky to start, but I'm putting my money on Huggs to straighten it out in time to get this team to the NCAA Tournament just like every other Mountaineer squad he's ever coached.
Record- 19-12
Big East 7th place finish
NCAA Tournament appearance as an 8-seed
Enjoy the season, everyone.
Trackback URL of this entry
http://www.wemustignitethiscouch.com/modules/weblog/weblog-tb.php/3328
The comments are owned by the poster. We aren't responsible for their content.
Poster
Thread
ncohen

Posted:

12/12/2011 11:50 am

Updated:

12/12/2011 11:50 am

Pitt Hater

Re: 2011-2012 WVU Basketball Season Preview

Judging by the last couple of games, 19-12 might not high enough. KJ has played above expectations all season, Truck has had two great games in a row, and Kilicli is vastly improved from last year. Of the freshmen, Gary Browne and Aaron Brown are making significant contributions.
Offensively, this team has much more potential than past teams. Kilicli is a low-post threat they haven't had in years (Cam thoroughman?), there are some signs of good outside shooting (Truck recently, Aaron Brown), and the fast break is far more of a threat than in past years. In the last game, Gary Browne created off the dribble a couple of times (Huggs said that he made shots Huggs didn't know he could make), something else they've not been good at. They're also much better about turnovers -- down to 10 in the last game, against a team with good guards.
I can't tell how good they are defensively, but given that Huggins is the coach, by year's end they'll be tough there as well.
So, 20-11 or 21-10. I'll go with 21-10, since the schedule is a little favorable -- Georgetown, Cincy, and Marquette at home. (we'll never beat Syracuse away, but we might not beat them at home either). These games, the home-court advantage may make the difference.